You are here
The Chief Justice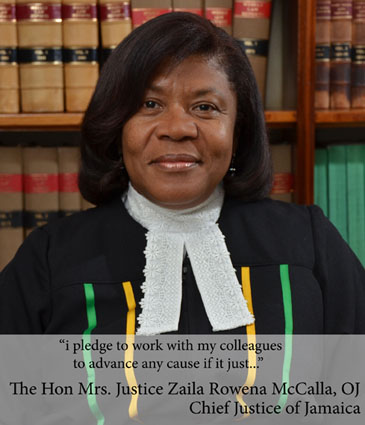 The Hon Mrs. Justice Zaila Rowena McCalla, OJ is a Graduate of the University of the West Indies and the Noman Manley Law School. Since being called to the Bar, Chief Justice McCalla has had an extensive legal career in the public service.
Chief Justice McCalla was called to the Jamaican Bar, September 27, 1976. Between October, 1976 and November, 1977 she served as Deputy Clerk of Court.  She was promoted to Clerk of Courts in November of 1977, a post she served in until July, 1980. From July 1, 1980 she served as Crown Counsel in the Department of Public Prosecutions, she was promoted on March 1, 1985 to Asst. Director of Public Prosecutions.
In August of 1985 she became a Resident Magistrate and was later promoted to Senior Resident Magistrate in April of 1996. In August of 1996 she became a Master-in-Chambers. On July 7, 1997 she was appointed Puisne Judge and a post she served in until April 10, 2006 when she was promoted to Judge of Appeal.
She was appointed Chief Justice of Jamaica on June 27, 2007. Chief Justice McCalla is the first female Chief Justice of Jamaica.